We are proud to now offer Class IV Laser Therapy as a treatment option!
Laser therapy provides a non-invasive, pain-free, nonsurgical and medication-free treatment that is used for a variety of conditions. Laser therapy can be performed in conjunction with existing treatment protocols and medications. Relief from discomfort and/or motor improvement is often noticed within minutes to hours depending on the condition and your pet's response. Whether your pet is rehabilitating from trauma or injury, or simply aging, your companion can benefit from this innovative approach to treating pain and promoting healing.
Watch Companion Animal Health's client video below!
Applications for Laser Therapy Include:
• Treatment of arthritis, pain and inflammation
• Sprains, strains, and fractures
• Post-surgical healing & pain relief (includes spays and neuters)
• Wounds, cuts, and bites
• Skin problems (hot spots, lick granulomas, infections)
• Dental extraction pain relief
• Ear infections
How Does Laser Therapy Work?
The laser light is administered through a non-invasive handpiece to the body for about 3 to 8 minutes per affected area and absorbed by the injured cells. The cells are then stimulated and respond with a higher rate of metabolism. This causes an in increase in blood circulation, reduced inflammation relieving pain, and an acceleration of the healing process.
Watch this video to see how therapy laser helps stimulate recovery on a cellular level.
What Can My Pet Expect During a Laser Therapy Treatment Session?
As the laser is administered, your pet may feel relaxed and enjoy the treatment. The warmth of the laser will allow your pet to start to become more comfortable. Some treatments are performed with a roller ball or a non-contact attachment.
In conjunction with our pheromone diffusers in the exam room, any anxiety that your pet initially experiences will quickly dissipate. We also encourage you to be present with your pet during the treatment session to help them to relax. But there are options to drop your pet off while you run errands if needed.
Quigley falling asleep while assistant Morgan is performing a laser therapy treatment
Occasionally, unhappy cats will start to purr, and canine companions will actually fall asleep during their therapy sessions.
* * *
Frequently after therapy we hear, "He's acting like a puppy again" or, "She can actually jump onto the chair again." Pain relief is provided in just a few minutes of therapy and that alone improves the quality of life for your companion. Our clients tend to notice that the treatments tend to last anywhere from 2 to 4 weeks.
What are the Costs?
Treatment protocols are unique to each patient and condition. Therefore, treatments will vary in time and complexity. We offer single sessions and package pricing.
Contact our office today to schedule an appointment for your pet or obtain additional information about pricing!
Heartworms in Gallatin County…
Can you believe Spring is almost over? Where has the time gone?! That being said, it's time to start thinking about heartworm prevention, but you may be asking yourself, "Is it really a problem to be concerned with in our area?"
The answer is yes! Let's first start with some fun and interesting facts about heartworms:
1. Heartworms live for a long time
Did you know that it takes about six months for the larvae to fully mature?
The average life span in dogs is 5 to 7 years.
The average life span in cats is 1 to 3 years.
The test that we carry is called an antigen test, which only detects adult heartworms.
2. Cats can get heartworms too
They are called 'atypical' hosts, but that doesn't mean that they are not susceptible to them.
Most larvae do not reach the adult stage in cats due to their small heart size.  The top four symptoms to watch for in cats are:
1. Stumbling
2. Fainting
3. Seizure activity
4. Fluid in the abdomen
There is no treatment available for cats. Usually by the time the symptoms are seen, it is usually too late.
3. They live in other species too
Here is a fun fact for you…
Did you know they can live in Ferrets and Sea Lions?
4. They have been diagnosed in ALL 50 states
The American Heartworm Society updates an incident map for the United States every three years. Click here to view the 2016 map.
The life cycle of the larvae is very dependent on temperature. That is why you generally see higher numbers in the states that have a warmer humid climate. Prevention is very effective. It is rare that it doesn't work.
The American Heartworm Society recommends testing yearly and giving prevention monthly. For more information, click here for resources, tools, and videos.
We recently had a dog come up positive during routine testing. He had spent his entire life in Montana. There has also been mention from other clinics in our area with other positive heartworm dogs since the beginning of this year.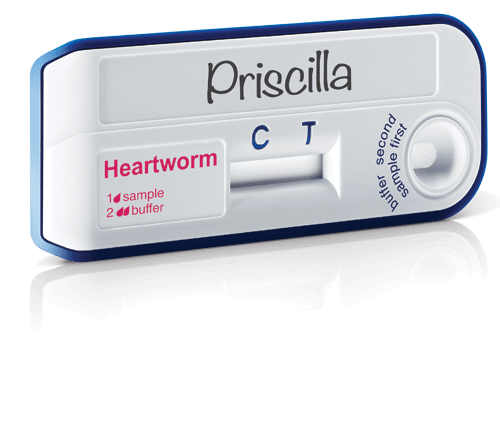 5. Testing is VERY important
It's the second-best thing to giving your pet monthly heartworm prevention. It could save their life!
Make an appointment today and take advantage of the $5 off manufacturer coupon!
Have any of you heard about Fear Free? Perhaps you read something briefly about it in an e-mail that we sent out. Maybe you were in recently for an exam with your pet and it was mentioned by one of our veterinarians or veterinary technicians. If you haven't heard about it, we are bursting at the seams to tell you about it!
Fear Free was developed by Dr. Marty Becker. He has been working with a team of leading board certified veterinary experts for about the last six years creating what the veterinary community is now calling, "The Fear Free Movement."
"Take the pet out of petrified"
–  Dr. Marty Becker
A recent publishing by The Bayer Veterinary Care Usage Study stated that:
26% of dog owners said just thinking about a visit to the vet is stressful
38% of cat owners said just thinking about a visit to the vet is stressful
37% of dog owners said their beloved dogs hate going to vet
And a whopping 58% of cat owners said their cats hate going to the vet
Would you agree with those statistics? Where do you fall?
These numbers bring one question to mind, what can we do at Hardaway Veterinary Hospital to change that? For starters, making our hospital a more pet centered practice! Are you familiar with our slogan?
"From our family to yours, we will treat you like you're part of the family"
If you and your pet don't feel comfortable, then that means less well check visits for your furry companion. That can leave a doorway open for disease to sneak its way in undetected. We want to help keep your pet healthy and live a long life to the fullest at your side! Our slogan says it all! We care deeply about your pets as if they were our own.
The next coming blogs will be a series focused all on Fear Free!
We are very excited to be a part of this movement. We can't wait to share more about it with you!
Crystal Sharp CVT
Did you know that September is a month dedicated solely to keeping our feline patients happy and healthy! It's called "Happy Healthy Cat Month." There is an entire web council devoted to such a celebration called Catalyst Council, you can check that out too. We will be supporting this great cause by sending goodies home for all our feline patients that come in for the month of September!
Let's also touch on ways to keep your cat happy. Below is a list of 10 ways to make your feline companion more content.
Visit the Veterinarian. There are many reasons why they should be brought in annually just like our canine friends. During most, if not ALL feline appointments we use a calming spray called Feliway to improve your cat's veterinary experience.
Provide preventative medications. Thankfully here in Montana we don't have many parasites issues, but if your furry friend is any kind of a hunter we suggest that you deworm often.
Microchip your cat. Most felines in our area are outdoor. Make sure your friend makes a safe recovery home even without a collar.
Provide toys. Not all cats like the same kind of toys, so experiment!
Train together. I know this may sound impossible, but it can be done! Have you seen the video of the cat running an agility course? Check out the video below.
Work for food. Puzzle food toys are not just for dogs, but for cats too! They are great mental and physical exercise!
Get your cat acclimated to the carrier. Many clients tell us how awful and difficult it is to get their cat into the carrier. Then there is the yowling the entire drive to the Vet. In addition to spraying Feliway in the exam rooms, we will spray a spritz in the carrier for the ride home. Lately clients have raved about how this drive home has been less stressful.
Go outside (appropriately). Again, in our area, most felines live mainly outdoors. For those that do not, try using a harness or a blocked off area on the porch to allow for supervised exploration.
Scratch the surface. Providing an approved area in the house to scratch is key! Scratching posts come in all different shapes and sizes. Some even have toys attached!
Think about getting another cat. Our local shelter Heart of the Valley Humane Society is full of adoptees! Be mindful of different personalities and do introductions slowly. Also, do not forget the litter box rule: one litter box per cat, plus one extra. That will help curb any house soiling issues.
You'll find more information about what you can do to keep your cat healthy over on the Catalyst Council's post on the same topic.
Enjoy the extra time you spend with your cat this month and let us know if you would like to bring them in for a wellness exam. We can give you more specific ideas on how to keep your cat healthy when we see you.
Speak to you soon,
Crystal Sharp, CVT
P.S. Here's your cat agility video!